NED University Karachi Admission 2014 are open for Five years Bachelors degree programs, Four Years Bachelors of Engineering Programs and Four years Bachelors of Science Programs and we have given yo all the details of the admission here. Those candidates who are seeking to get admissions,can get all the detail regarding to admission from this page.The NED University of Engineering and Technology is a public research university, it is located in the urban area of Karachi. This is the most oldest university of higher learning in Pakistan and it is noted for its strong emphasis on higher learning in science and technology. It was established in the year of 1922 as the technical projects to provide training to civil engineers to work in the Sukkur Barrage, this university was came into modernity after being established by the British Government. The university offers a wide range of various academic programs in humanities and fine arts for undergraduate ,postgraduate and doctoral studies.Primarily its financial endowment and the science scientific research is directed towards the development of the engineering, natural, management and medical sciences.
So it is the best time to get admission here in NED University Karachi, we have given you NED University Karachi Admission 2014 Form, Last Date here. Online application are invited for admissions for First Year Classes for the Bachelors degree programmes and all are given under here:
Four Years Bachelor of Engineering Programs:
Computer System
Telecommunication
Industrial and Manufacturing
Bio Medical Engineering
Polymer & Petrochemical
Automotive
Construction
Mechanical
Petroleum
Metallurgical
Chemical
Electronic
Electrical
Software
Food Engineering
Civil
Urban
Textile
Materials
Five Years Bachelor Program:
Four Years Bachelor of Science Programs:
Management Science
Computational Finance
Development Studies
Textile Science
Computer Science and IT
Industrial Chemistry
Applied Physics
Eligibility for Admission:
HSC or Equivalent with at least 60% Aggregate Marks in the year 2014 (but not for 2011).
Candidates who have done HSC or Equivalent equivalent foreign examination with at least 55% Aggregate Marks in the year 2014 (but not for 2011) are eligible to get admission in BS programs except computer science and IT.
The applicant who have passed Foreign examination are required to produce IBCC Equivalency Certificate.
Grace Marks shall not be consider to determine eligibility.
 Online submission of Application forms:

11th October, 2014
 Online Admission System Starting: 

6th September, 2014
NED University Karachi Admission 2014 Form, Last Date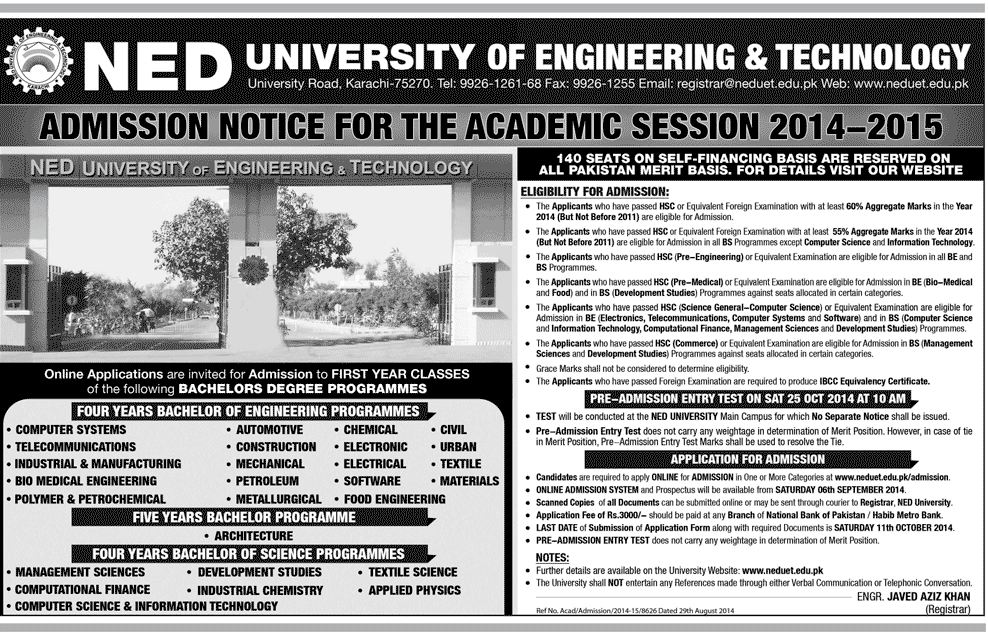 Admission Form:
Candidates are required to apply ONLINE for admission in one or more categories at www.neduet.edu.pk/admission and ONLINE Admission System and prospectus will be available from the date of Saturday 6th September, 2014. All the candidates have to submit scanned copies of all the documents online or may be sent through courier to Registered, NED University. All the candidates are informed that last date for Online submission of application forms is 11th October, 2014 after that no application will be entertained ONLINE. All the admission eligibility criteria will be determined on the basis of test and merit. Stay with this page to get more latest admission updates from here.