GC University Faisalabad MS, M.Phil, PhD Fall Admission 2014 all the information and details are given here, you can get all the admission process, Deadlines,Admission Schedule, Availability of Admission Form and Commencement of classes is also given here. After reading this post you can easily getadmission here in Government College University,Faisalabad. GCU Faisalabad is offering you MS/M.Phil (Evening Programmes) and Ph.D (Regular Programs) Eligibility Criteria for both the programs is different and given here you can check and get admission according to the given information. The GC University's journey started as aprimary school in 1897 in the present building of Govt. Colleges for Women, Karkhana Bazar, Faisalabad. It was promoted to High School and Intermediate college in the year of 1905 and 1932. It was elevated to the degree level in 1933 and postgraduate disciplines were introduced in 1963.So the candidates want to apply here in GCU are informed that Prospectus will be available at the following Banks of Pakistan, Faisalabad on Payment of Rs. 1000/-
National Bank
Jinnah Colony Branch (University Booth), Faisalabad
Jinnah Colony Branch, Faisalabad
Bank of Punjab
Admission Schedule
Availability of Admission Forms:

                                                July 24, 2014

Last Date for Receipt of Admission Form

:                           August 18, 2014

Admission Test for M.Phi

l:                                                        August 23, 2014 at 10:00 Am

Admission Test for Ph.D:

                                                           August 24, 2014 at 10:00 Am

Beginning of Classes

:                                                                 September 03, 2014
GC University Faisalabad MS, M.Phil, PhD Fall Admission 2014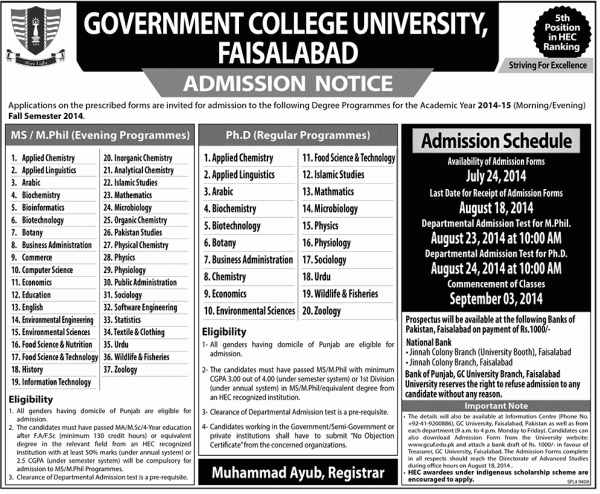 Application Forms:
Application from are available on the official site of the University and also here in this Post, To download application from for getting registered in GC University Faisalabad,
Click here to Download Application Form
If you want to get more details about this admission contact the information center of GC University, Faisalabad, Pakistan as well as from each department. Candidates have also a facility to download application forms from here and also from the University Website www.gcuf.edu.pk and attach the bank draft of Rs. 1000/- in favor of Treasure, GC University, Faisalabad. The Admission Form complete in all respect should reach the Directorate of Advance Studies during office hours on August 18, 2014.