Admission notice has been issued from GC University Faisalabad admissions for the year of 2015 and if you are looking for the information of this admission you have come on right website the objective of this site is to give you all the latest admissions  last date and Criteria. So Gc University Faisalabad Admission 2015 Last Date, Criteria,Form is given here .Goverment college university Faisalabad is offering you Bachelor Degree, Master Degree, Ms/M.Phil Programmes and Advance diplomas in Clinical Psychology. Applications before the last date are invited for admission to the above programmes fr the academic year 2015-16 (Morning/Evening) Spring Semester 2015. Goverment College University Faisalabad is a general university in the industrial and agricultural hub of Pakistan, Faisalabad. According to the latest university ranking by HEC, GCUF is on 5th position general universities ranking list at all. It started is journey as a primary school in the year of 1897 in the present building of Goverment College for Women Karkhana Bazar, Faisalabad. It was promoted to High School and intermediate college in the year of 1905 and 1924 respectively. It was elevated to the degree level in 19933 and postgraduate disciplines were introduced in the year of 1963.
GCU Faisalabad has a long history of excellence and distinctions as an institution. Renowned scholars and emanate personalities have  served this institution in various capacities at various stages of the history. Now this university has developed a lot and offering admission in many programmes.
Eligibility Criteria for Bachelor Degree Programme:
Candidates want to get admission to the degree of B.Sc. (Hons),BS , Bachelor of Fine Arts, Bachelor of Fashion Design, Bachelor of Textile  Design,Bachelor of Graphic Design, Bachelor of Business Administration, Bachelor of Commerce, LLB ( 5 years programme) must have passed the examination of FA/FSc/ICS/ A level or equvilanat from a recognized institution with at least 45% marks or 2nd division on the basis of the respective category of admission, excluding 20 marks each of NCC and Hafiza-e-e Quran.
For the subjects of Engineering and Pharmacy the minimum admission requirement is 1st division.
The candidates seeking admission in LLB must have Bachelors degree or equivalent examinations in 2nd division with at least 45 marks.
The maximum age limit is 22 year which may be relaxed up to 2 years by the competent authority in hadship cases.
Eligibility Criteria for Master Degree Programme:
Such candidates who want to get admission to the degree of M.Sc/MA/MBA/M.com/MPA/LLB, must have done Bachelors degree or equivalent  examination in second division with at least 45% marks (under annual system) or at least 2.0 CGPA out of 4.0 from any HEC Recognized institution.
Maximum Age limit is 26 which may be relaxed up to 2 years by the competent authority in exceptional cases.
Candidate want to get admission must have to appear in NTS test
Eligibility Criteria for MS/ Mphil Programme:
Candidates seeking for admission to the degree must have sixteen years of education or 4 years educaiton after F.A./F.Sc./ A-Level or equivalent with at least second division/CGPA 2.50 in the degree on the basis of which admission is requested and qualified GRE/GAT type test as may be prescribed by HEC.
A candidate for admission has no age limit as long as there is no physical or mental handicap
Last Date For submission of Application from:

10th April, 2015
Availability of admission forms:

20th March, 2015
Commencement of classes:

25th April, 2015
CLICK HERE

to get Application Form:
Gc University Faisalabad Admission 2015 Last Date, Criteria,Form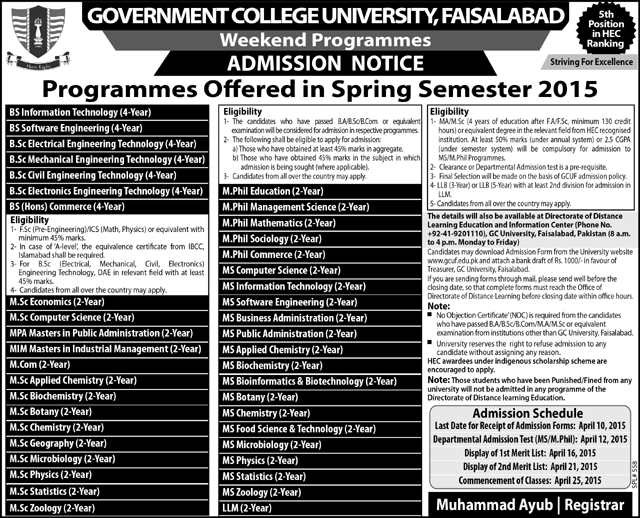 Admission Form:
The admission form is also available at University website and here also given, candidates can download admission from, from the link given above and attach a bank draft of 1000/- in favor of treasure , GC University Faisalabad ,Availability of admission forms and prospectus is from  while the latest date for submission of application forms is 2015. After that the selected candidates will be called for test and interview and classed wile  begin from the date of