Allied schools admission 2017 playgroup to Matric open, you can get admission here now because admissions are open for short time.Admissions here at Allied Schools depends on Availability of Seats, Score of Admission test and interview of Child/Parent at all. you can get all the information of the admission and easily get the process to get admission,Candidates want to get admission from 1 class to Matric will have to give the entry test of English,Urdu and mathematics it is compulsory to pass the test at all. In Allied Schools you will get too much facilities at all. You will get merit base scholarship for brothers and sister of same home, Allied Schools is offering Healthy Wealthy Futures program for the students.Their is a special campuses are organized for the preparation of Matric students. A most best and fruitfully thing is Allied Schools providing to the parents, Allied Schools will inform you the daily results and attendance of the students via SMS, it will be helpful for the parents to look after the children's after leaving the home.
Allied Schools Admission 2017 Playgroup To Matric Open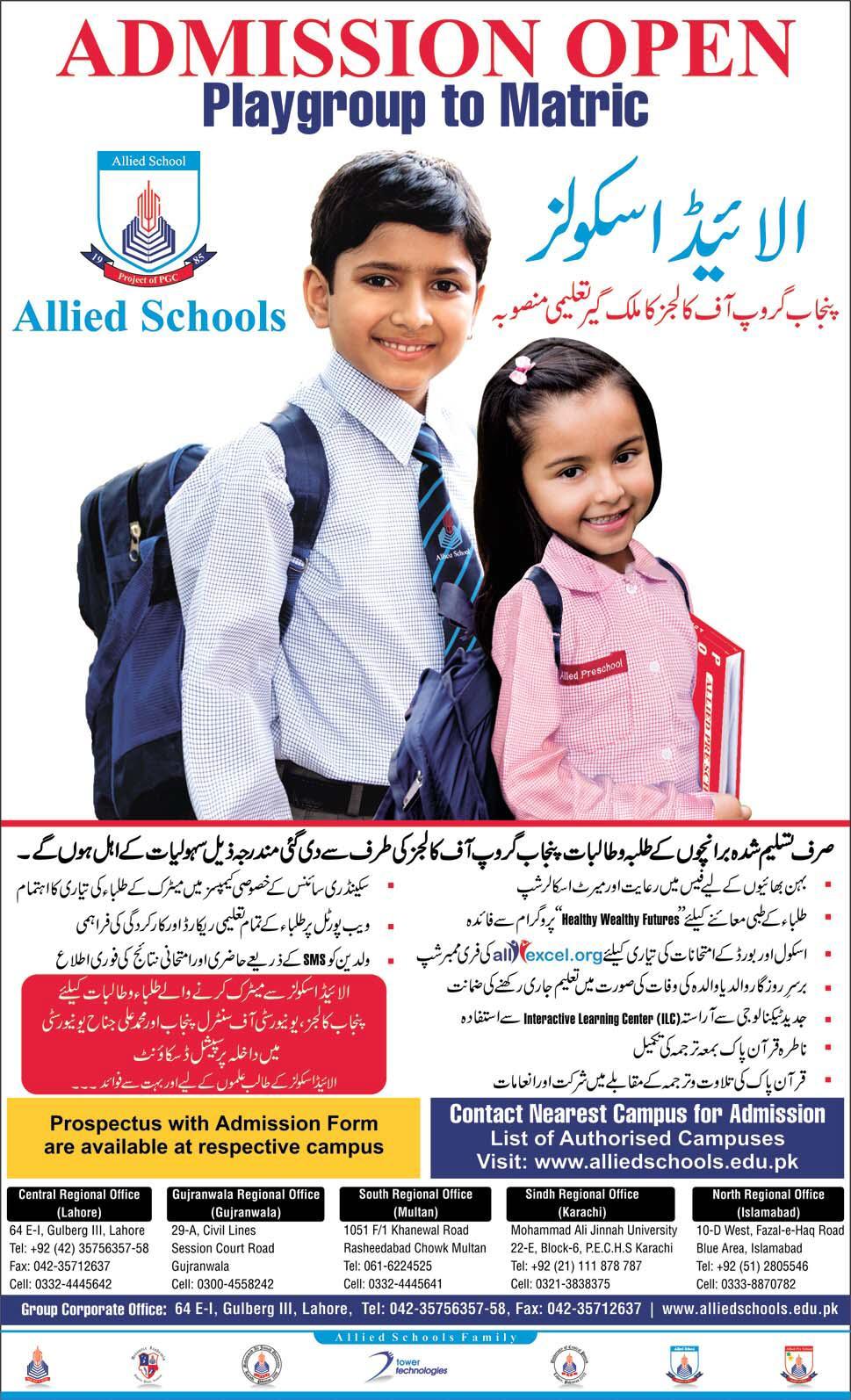 Allied Schools admission are open so parents must cash this opportunity to admit their students here in this school system,you can get all the information of these admissions from here, Candidates want to apply can get prospectus with admission form at the respective campus, get the admission form and apply for admission, we have given you all the addresses of all the campuses. GO to the nearest campus and visit the schools, Allied Schools admission 2017 Playgroup to Matric Open and you can get admission by having prospectus from the nearest campus and given test and interview. Keep visiting this site to get more information about latest admissions, latest jobs, result and all the latest education news from here.