Php,J query, MySQL, Joomla Wamp Server Course Admission in Karachi all the details are given in this post. We have also discussed basic details of all these computer languages here. Our site gives you most latest and new admissions, jobs, Results and all the education news here. In this post you will get the information of  Php,Jquery, MySQL, Joomla Wamp Server Course Admission in Karachi.Get all the details of admission in these four languages and much more from here.In this post we have given you the institutes where you can do the short and long courses of Php, jQuery, javaScript, MySQL, Joomla and WampServer. These institutes will also offer you to do coursed of Visual Studio, Microsoft.NET, .Net language, C#.net and ASP.net. All these courses are offered in the famous institute of Karachi named OraSoft. It is the IT institute established in the month of September and year of 1999 with the name of Orasoft Training Institute under the supervision of Modern Educational Society.
Orasoft Training Institute has maintained high standards to provide quality education in the filed of IT under the guidance of highly educated and dedicated professionals.
Php,Jquery, MySQL, Joomla Wamp Server Course Admission in Karachi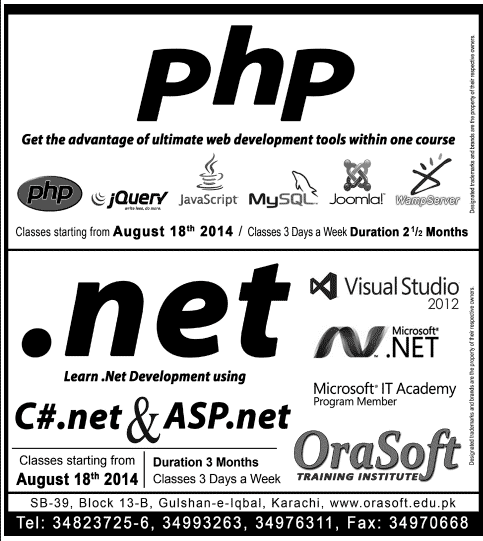 OraSoft being one of the Pakistan's world class IT training institute has proved itself as a hub to produce high caliber IT professional for the 21st Century.The Orasoft programs provide as distinct advantages for higher education as well for the carrier building through the development of professional and specialized skills. OraSoft welcomes the students,who wish to become a member of rapidly growing, well paid and highly dynamic profession of IT. SO you can get all other information about this institute by visiting the official site, there are many other institutes which offers you the same IT Courses you can get to know about other institutes by visiting this site on daily basis. SO keep visiting this site to get more details about these courses and the institutes.