All the details about Standard College Lahore Admissions 2017, Deadlines, Eligibility Criteria, Admission Criteria, Admission Process and all the information related to this admission are available here and given in details so that candidates want to apply for these admission can apply easily at all. You can also get application/admission/Registration from for getting registered in Standard College Lahore. This college is offering you Intermediate, Graduation and postgraduate programs for study. Standard College was Established in 2001 aiming at providing the best possible professional education at low cost. It's a growing institution producing a large number of profession in different areas. The College is located in the historical and culturally alive city of Lahore, this college has played a leading rile in education in the country. The college strives to provide a conducive environment for the pursuit of the academic activities. Admission procedure for every program is different and Eligibility Criteria also, we have given you both here. Standard College Lahore is giving you so many facilities you will get highly qualified and Experienced Faculty here.
Scholarship is also available here for Talented and Deserving Students, Free discount for Kinship and Old students, Fully air conditioned high tech classrooms, E-Lab Equipped with latest Computers, Science lab as per University/Board standard and may other facilities are available here.Candidates want to get application from can easily get from here and also from the official site of the Standard College.
Standard College Lahore Admissions 2017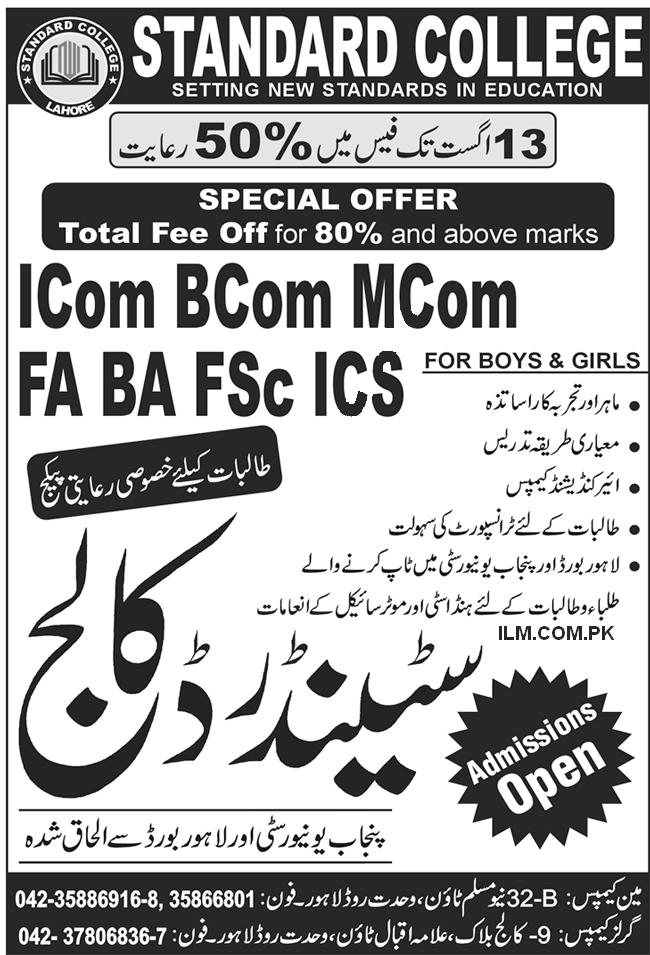 This post will be much helpful for the candidates want to get admission in Standard College.Standard College Lahore Admissions 2017 all the details and process is given here. You can get to know all the information and for more you can visit the Admission office of the Lahore Campus, We give you more new and latest admissions here, for more Keep visiting this site to get more updates and latest admissions from here.