Scholars Group of College admissions 2017 Fees Discount, Application Form Details, Deadlines, Programs offered, Admission Process, Eligibility, Requirements and all the information related to these admission are given here. Intermediate admissions are open for session 2017-19, Programs offered in Scholars Group of Colleges are F.Sc (Pre-Engineering),F.Sc (Pre-Medical), ICS, I.Com, FA, B.Com, B.Sc, BBA, M.Com, M.Sc and MBA. Now onwards there is new thing which have come to know about SGC that from now old Scholars of SGC will be treated as AMBASSADOR of Scholar Group of Colleges you can become a member of "Old Scholars Association" by clicking on website, Facebook or phones of Scholars Group of Colleges.Old Scholars will be invited on all occasion, functions, annual dinners and the member of Old Scholar Association can recommend 10 students for admission.Special FEE Package will be given on your recommendation. Scholar Colleges was established in 1982, Since then it has been educating the nation builders of Pakistan. In intermediate it has a separate campus for Boys and Girls, The boys branch is located at 8-A, Shara-e-Aswan-Tajarat, Shadman Chowk Lahore.
Scholarship is also given to the talented and deserving students and all the Scholarship plan is given here in detail below:
Scholarship Plan:



For A+ Grade : Only Full FEE Wave OFF
For A Grade: Only 50% FEE Wave OFF
For B Grade: Only 40% FEE Wave OFF
For C Grade: Only 20% FEE Wave OFF
Scholars Group of College Admissions 2017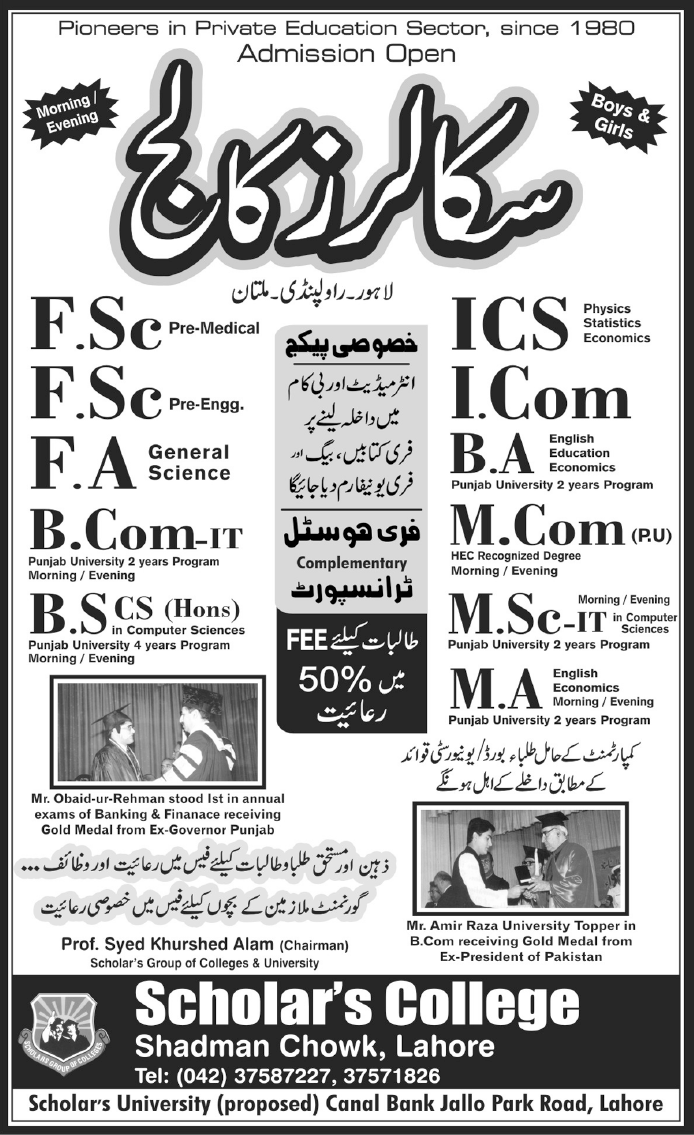 Female students can get too much facilities including Computer Labs, Science Lab, 2 Libraries, Transport Facility, Book Shop, Tuck Shop, Auditorium, Multimedia Facility in Class room and Air Conditioned Class rooms, all these facilities are available in Boys Campus too. We have given you all the process of getting admission here in SGC, For applying visit the college at the given address in the post and the advertisement. SGC is giving a special fee package for Orphans, Widows, Disables, Hafiz-e-Quran, Qari, Working Journalist, Govt. Servants, Armed Forces, Teachers and Old Scholarship and Kinship here in FGC. For Job Bureau Services and held in getting a part time Job in or out of country are available by which students can get job easily. Keep visiting this site to get more details and news.