Punjab Govt Medical and Dental College Admission 2015-2016 UHS Announced and all details regarding to the admission are available here. Admission procedure, last date to apply, Entry test date, application forms availability and much more about these admissions of 2015-16. The programs offered by University of health and sciences are MBBS/BDS. You can get the  admission kit can be get from the college along with the admission from, you have to submit your Entry test applications according to the schedule along with Educational Certificates of metric or Equivalent, Attested copies of Intermediate Science Pre-Medical or Equivalent  Mark Sheets, two copies of filled admission cards along with affixed colored photographs of 2.5cm× 2.5 cm (No need to attest the Photographs), two colored photographs of 3.5cm× 3.5 cm attested on back while on is attested on front, all three complete filled receipts available in kit must be sent. While the admission process in also given under here:
Punjab Govt Medical and Dental College Admission 2015-2016 UHS Announced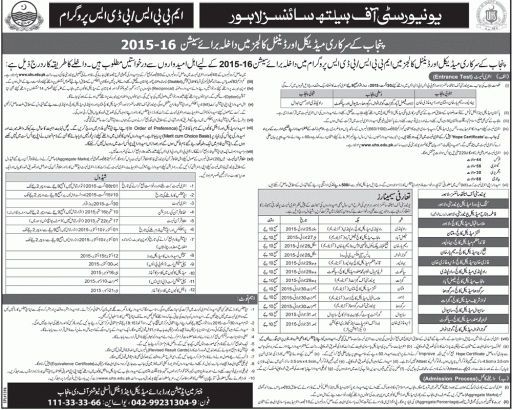 Admission Process:
Admission Process will be start after the Announcement of Entry test results by the Government.
According to the formula of Pakistan Medical and Dental Council only the students having the domicile of Punjab or Islamabad and having 82% or more than 82% marks in entry test will be able to get admission.
Assessment of Merit will be considered on the Aggregate Percentage.
according to the schedule given by Multan and Rawalpindi Medical college candidates will be to get admission Kit including admission form free.
Admission from must be submitted from where you got the admission KIT.
There is no need to submit separate admission forms for MMBS/BSD. A candidate can submit one application form only.
Entry test date

: Sunday 31 August, 2015 
Entry test will also be taken from University of Health and Sciences for admission of MBBS/BSD on the date of 31 August, 2015 on Sunday, 09:00 am; Entry test will be taken in cites given in the add.