Students are invited to apply for the NISA Girls College Admissions. NISA Girls College intermediate admission 2022 FA, FSc Application Form are available now. This college opens admission every year for female students and encourages them to take admission through offering various scholarships including free education to students who have good marks. The Admission are open here in NISA Girls College for Intermediate FA, FSc, ICS and I.Com programs. It is one of the best college having campuses in Lahore, Sialkot, Khaarian, and Sargodha. The tagline of the college is Your Journey to success starts here, it is right and matches the college indeed, it has been developing the career of a thousand girls every year. A word "NISA" has been taken form Quran Paak, it has meanings "Women". The main purpose of building NISA Colleges was to target the women's of Pakistan, they are the most important part of the country and there is a vital role of women in every profession
Here in NISA Girls College you will get free Education Scholarship Policy, you will get the free education (Medical, Engineering, ICS) on getting more than 80% marks, on getting more than 75% Marks you will get free education( I.COm, FA), Half fee concession on getting 70% Marks. Talented and deserving students will get education free of Cost.
NISA Girls College Intermediate Admission 2022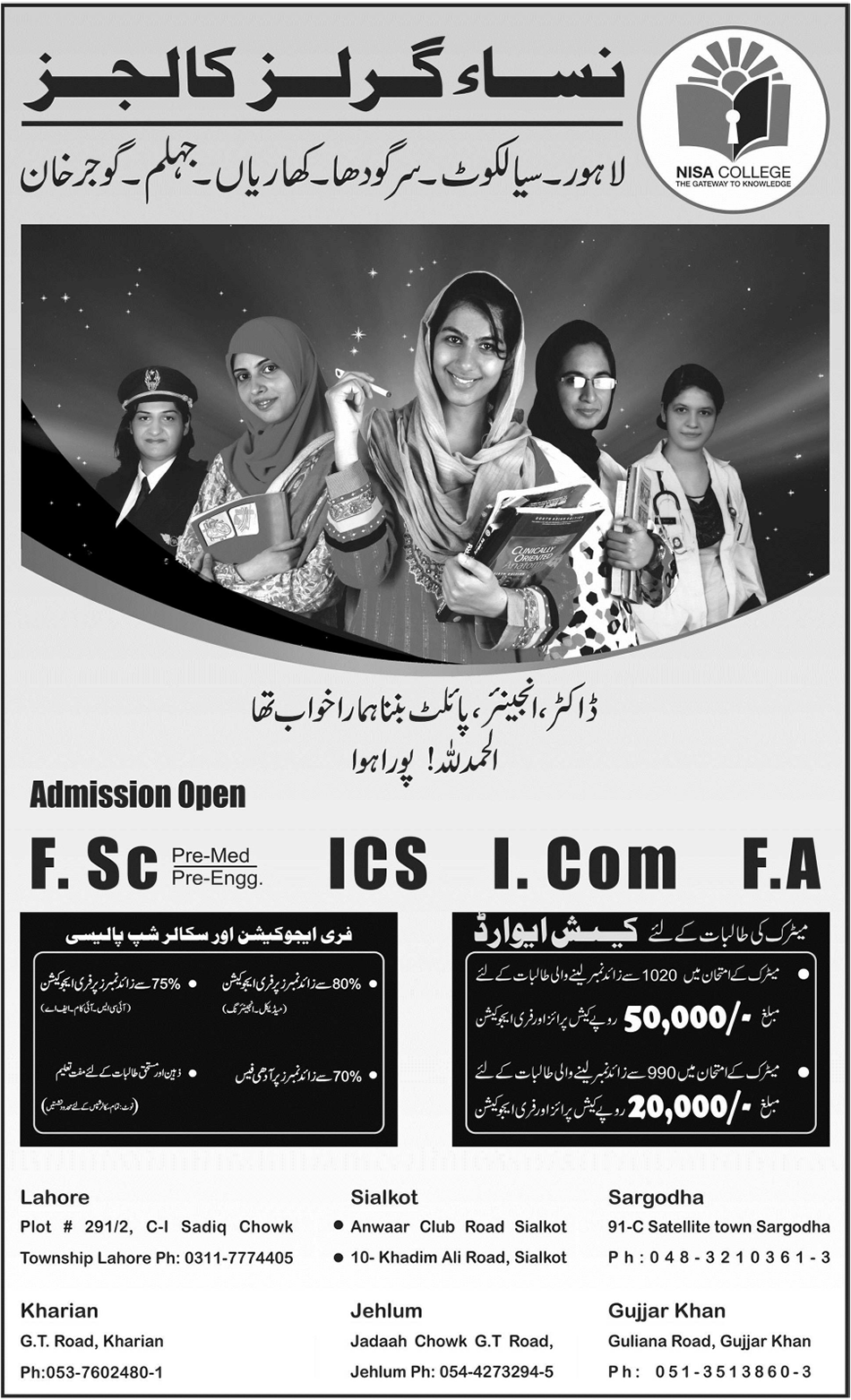 NISA college help to build the future of the girls of national and also help to build confidence and their personality to work out in every profession they will suppose to work. It is the best chance for the girls of  Lahore, Sialkot, Khaarian and Sargodha to get admission here at NISA Girls College for Intermediate FA, FSc, ICS and I.Com. You can get admission here by visiting the  Campuses of your city, addresses are also given here in the advertisement, we have given you all the other details of NISA colleges admission here. for further details visit the official site of NISA colleges.NISA Girls College Intermediate Admission 2022 FA, FSc all the information are given above further information can get by visiting the campuses and also by visiting the site of NISA Girls Colleges.