All the details about Jinnah Islamia Group Of Colleges Lahore admission 2017 is available here, You can get admission process, Last Date, Eligibility Criteria, Admission Criteria, Deadlines and all the information regarding to this admission are given here in detail, you can easily get information from here and access to the admission without any hurdle.This post will be helpful for candidates to get application forms also from here, we have given you the links of application from to download and fill it. This post will be much beneficial for the candidates who want to get admission here and apply here in any program offered here in Jinnah Islamia Group of Colleges.By Educational Point of view Jinnah Islamia Group of Colleges is one of the best educational institute every year the result of students is coming 100% undoubtedly, its all because of the highly educated and experienced faculty that the students are getting 100% results. There are many other facilities the college giving you it is offering you F.Sc, ICS,I.Com, F.A, B.A, B.Com, M.Com, MBA and MA, admissions are open here for these classes.Jinnah Islamia Group Of Colleges was established in 1979,JICC is regarded as the oldest seat of learning introduce education in private sector in Pakistan. It is housed in elegant and spacious separate campuses for boys and girls, nestled at PECO Road Township Lahore, that is one of the glaring example of 21st century design, it is very beautiful build at all and very peaceful environment for education.
To Get More Details Click Here
Jinnah Islamia Group Of Colleges Lahore Admission 2017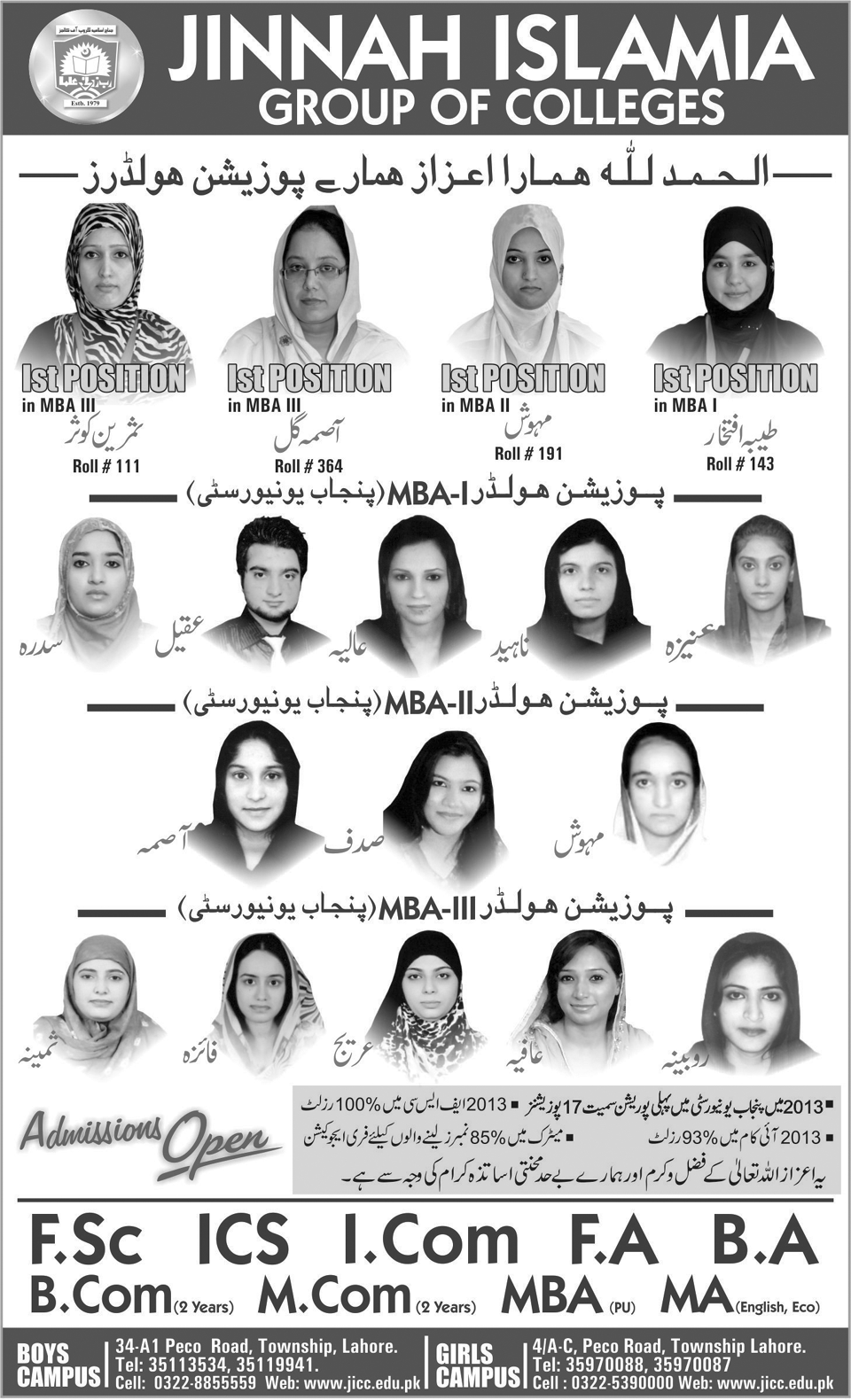 Click Here to Apply Online
In the Advertizement college has given the position holders name who have got positions in MBA. Candidates want to apply get application from or visit the nearest admission office  to get registered here in Jinnah Islamia Group of colleges for admission 2017 in different programs. Our site always gives you the latest and new admissions, Jobs,Results and all the education news here, so keep visiting to get latest new about education and world.