The admissions are open for the 8th class in cadet College Okara for the session of 2015. The admission for the 8th class in Cadet College Okara will be conducted through Entry test. The candidates willing to get the admission must fit in the eligibility criteria and must go through the entry test. CCO (Cadet College Okara) is having a well qualified and experienced teaching staff. This staff is hired to teach all the compulsory as well as elective subjects. Beside studies CCO is giving physical training to the cadets. College is also having other basic facilities like hostel and more importantly college Hospital. CCO is committed to give a quality education and building up the personalities of Cadets. Main focus of the College is academic excellence, Intellectual Advancement, Moral up gradation and Physical Development. The training is given to the boys for the armed forces. CCO is the second Cadet College in Punjab in public sector. It has proven itself by showing a quality result every year. The students of CCO are also encouraged to build up the competition among students which ultimately become a reason for the consistence result.
CCO has given a certain criteria for the eligibility to get admissions as well as it has also described the complete procedure for the application. All the information is provided here to you.
cadet college okara 8th Class Admission 2015 Entry Test, Form Last Date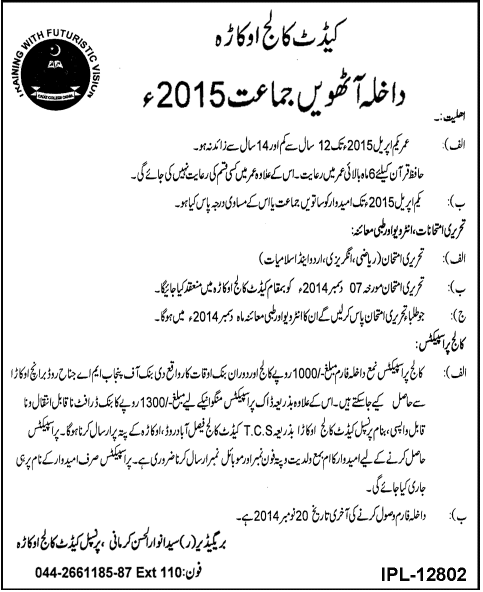 Eligibility criteria:
The age of the candidate must be between 12 and 14 till 01-04-2015.
Hafiz e Quran is given a relief of 6 months. Other then this no relief will be given to the candidates in case of age.
Candidates must pass the 7Th grade or equivalent before 01-04-2015.
Entry test:
Entry test will be taken in the subjects of Mathematics, Urdu and Islamiat.
Entry test will be held on December 07, 2015, at Cadet College Okara.
Interview and Medical Checkup:
The candidates after qualifying the entry test would go through the interview and medical checkup in the month of December.
Admission forms and college prospectus:
College prospectus along with the admission or application form can be collected from The Bank of Punjab M A Jinnah Road branch by paying a coast of 1000 Rupees during working timings.
If someone want to get it by post then the candidate must send a draft of Rs 1300/- (non refundable) to the name of principle of cadet College through T.C.S at address of Cadet College Faisalabad Road, Okara.
To get the prospectus candidate must send his full name along with the father's name, Address and telephone number. Prospectus will be issued just on the name of candidate.
Last date to submit the admission forms:
Last date to submit the admission forms is declared as 20-11-2014.