If you want to send or receive money all over the Pakistan different branchless companies is providing services for all people who are living in Pakistan. Easypaisa is branchless baking that is offering by Telenor Telecommunication Company. Readers this is a reality few years ago before Easypaisa service money transfer is very big issue on Pakistan because Banks was only source for money transfer and you must have knowledge Bank money transfer procedure is very lengthy and taking extra time. According to my experience procedure money receive and send alternative procedure is very easy so must use it. In below side how to Transfer Money through Easy Paisa Procedure Charges Passcode details is available for you.
How To Transfer Money Through Easy Paisa Procedure Charges Passcode

How to Send Money:
Go to Nearest Easypaisa Branch
Show your Sender CNIC Number and give one Photocopy to Easypaisa retailer
Show receiver CNIC number on front of Easypaisa retailer
Give your mobile number to Easypaisa retailer
Give receiver number to Easypaisa retailer
After this details tell money amount
Retailer will send amount and after this give you one slip and passcode in your hand
Note:
Save that passcode and not show it to any other person
Do not forget Easypaisa deposit amount slip because this is only prove for you
Money Sending Charges:
You must have information money charges is apply of every transaction, in below side details of charges is available on picture.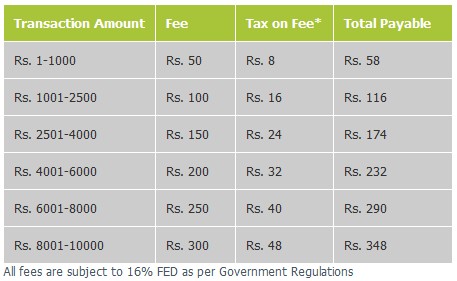 How to Receive Money:
This detail is available for all money receiver people.
Show your Original ID card Number and give you CNIC one copy
After this step retailer will give you mobile for passcode entrance
Enter passcode and give mobile to retailer
After few minutes retailer will give you money
Reader Easypaisa, mobicash etc all companies is working with same style and same charges so through this website you can get different microfinance details and companies offers so just visit this website main home page.