Warid postpaid Call, SMS and Internet packages for On-Net and Off-Net detail is given on this page. How much Line Rent charges will be taken? How many types of Call, SMS and Internet packages? All other information is given on this page so the subscriber must keep in touch with this page and know all kind of information that you needed. Warid postpaid Call and SMS packages rates are lowest as compare to other mobile network. Postpaid customer use free minutes to On-Net and Off-Net means that the subscriber can call to his friends and family members that have Warid network as well as other network so postpaid is best for the dear customer.
Warid Postpaid Call, SMS, Internet Packages for On-Net and Off-Net
Warid Postpaid Call Packages
There are 6 types of Call packages and one of them is completely free with unlimited calls. Postpaid packages detail is given blow
Warid Postpaid 250
Warid Postpaid 500
Warid Postpaid 750
Warid Postpaid 1500
Warid Postpaid 2500
Warid Postpaid 4000
Number of free minutes will be given same as the package price means that package price is 555 and free minutes will be also 500. The subscriber can call to On-net and Off-Net networks but its division you can see on the picture which is given below. One thing more the Line Rent charges depends on the relevant package.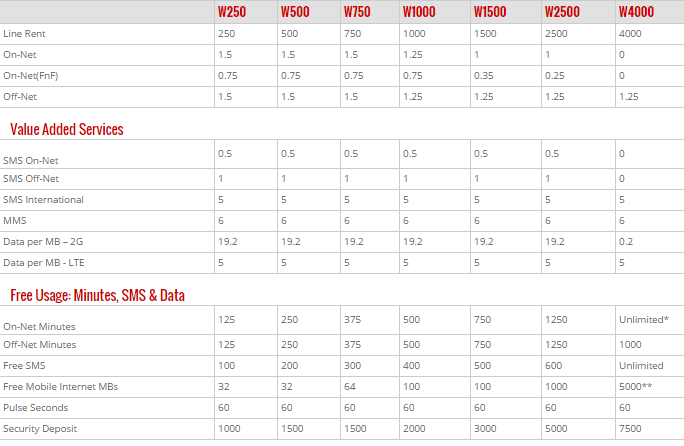 Postpaid FnF numbers
Postpaid subscriber can add FnF numbers upto 5 and its service charges are 500 per month. It will be taken extra with Line Rent.
Postpaid SMS Packages
The postpaid subscriber must take the SMS service separately and you can SMS everywhere and anytime.
7500 SMS and MMS with charges of Rs.  210 per month
750 SMS and MMS with charges of Rs.  90 per month
Postpaid Internet Packages
Postpaid internet packages are in many types and you can download and watch online programs which like you.
2 GB downloading      with    Rs.  500 per month
30 MB downloading  with    Rs.  240 per month
20 MB downloading  with    Rs.  200 per month
15 MB downloading   with    Rs.  120 per month
6 MB downloading     with   Rs.  80    per month