Specifications PM Youth Laptop Scheme 2017 available in details you can get current and authentic information lot of rumor spread in these days like PM Youth Laptop have low specifications but that all rumor is totally fake that is the reason we share Laptop Specification with detail. These all laptop manufactured by HP and Dell company and per laptop estimated market price is 45,000 so do not worry a huge budget spend on this Scheme only for brilliant students now we discuss PM Youth loan Scheme Mian Muhammad Nawaz Sharif Prime Minister of Pakistan introduce total six Youth scheme and Laptop is one of the Youth scheme that have only one purpose give motivation and  introduce technology in youth because in future all professional and non-professional activities will base on IT so if you have good marks in previous study and get study from HEC recognized universities or any Government college then you are eligible for this Scheme.  Prime minister announced in past this scheme base in Punjab nut this time CM youth laptop scheme convert in PM youth laptop youth scheme and all work done under Fedral government and total 130,000 laptop will distribute in all over Pakistan. Master and Bachelor level students got 50% laptop and under graduation students got total remaining 50% laptop now get Specifications PM Youth Laptop scheme 2017 available in details.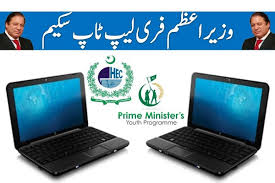 PM Laptop Distribution Schedule Dates 2017
Specifications PM Youth Laptop Scheme 2017
| | |
| --- | --- |
| Processor | Mobile Processor Intel® Core™ i3- 4thGeneration processor (1.6 GHz) or higher (i.e. Core™ i5 or Core™ i7) |
| Chipset | Chipset/ Motherboard Intel Chipset HM86 or higher |
| RAM Memory | 4 GB of DDR-III or higher (expandable to 8 GB or higher) |
| Hard Drive | HD with 5400 RPM or Higher |
| DVD | Super Drive DVD+/-RW compatible with Microsoft Windows 7/8 and Linux |
| Graphic Card Specifications | Display Graphics Card Integrated graphics on motherboard |
| Speakers | Speakers should be Built-in with built in Microphone |
| Networking Card | Network Adapter Minimum on-Board 10/100 Ethernet (Microsoft Windows 7/8 and Linux Supportive) |
| Display | LCD/ LED/ Touch Display 14? to 15.4" Widescreen High Definition Display |
| Input / Output Interface | Integrated I/O Interfaces 2 USB 2.0 Port. 1 RJ45 Jack for Ethernet, VGA/ HDMI Port along with external HDMI/ VGA Adapter and other standard features |
| Wireless Card | Wireless LAN Wireless 802.11b/g/n compatible with Microsoft Windows 7/8 and Linux Supportive |
| Web Cam | Web Cam Built-in High Definition Web Cam with integrated microphone |
| Laptop Battery Specifications | Batteries & Power Supply Li-ion Re-chargeable 6 Cell Battery pack and Power Supply as per manufacturer standard |
| Mouse and Input Devices | Mouse & Key Board 84/ 85 keys pad and integrated Touch Pad |
| Software | Operating System Windows 8 starter or higher (pre-installed and personalized for this scheme) |
| Productivity Applications | Microsoft Office 2013 |
| Accessories | 3 Standard accessories Power cable with two/ three pin socket and plug, Interface cable, Power adopter, charger and standard instructions |
| Carrying Bag | Polyester fabric Soft backpack carrying bag; Government, image and Scheme name shall be embroidered on the front pocket as per the designed Logo |
| Warranty | Minimum 1 year comprehensive warranty including battery |
 These all specification finalized by PM youth Laptop Scheme if you want more information about this Youth Scheme then Visit relevant link that is available in below side if you want to know Universities list with name that is authorized by youth laptop scheme for laptop distribution then visit these links.