CM Punjab Kisan loan scheme 2016 registration procedure is all written here with details of this scheme. Chief Minister of Pakistan Mian Muhammad Shahbaz Shareef has took special steps for farmers and decide to depart interest free loans to all eligible and suitable Farmers (Kisan). Along with loans the CM has also ordered to Government of Punjab, Pakistan to endow smart phones to each farmer so that the agriculture system could be improved with the latest alerts in new techniques and machinery. So all those farmers who are deserving these loans so that they can buy new machinery, seeds and manure to get healthy and additional out comes from their crops. Moreover the smart phone will also keep up to date to all farmers with any alert about prizes and technique in harvesting. So never miss this golden opportunity if you is a former and owner of 12. 5 acre land and growing fasl-e-rabbi or fasl-r-Khareef. Keep on reading to get more details about CM Punjab Kisan loan scheme 2016 registration procedure according to the instructions mentioned by the Government of Pakistan in the advertisement.
Eligibility Criteria
The following eligibility criteria is mandatory and if any farmer whose is not fulfill the following criteria will not get Kisan loan scheme.
The agrarian and residential land of a farmer should be listed under same union council
One person from one family can get this Kisan loan
Contractor or other workers can also get this loan but they have to bring permission letter, CNIC copy, mobile number and details about that land with the photocopy or registration of that land
5 acre land owners can apply for this loan but loan will be endowed till only 5 acres of land
Interest Free Loan Details
For Rabbi Fasl: Rs. 25, 000 per acre
For Khareef Fasl: Rs. 40, 000 per acre
Registration Procedure
If you are eligible according to the above written eligibility criteria then you have to do the following procedure
Come at Tehsil Land Record Center between 4 evening to 8 night
Bring your original CNIC, Mobile Phone Number that is active all the time, and details of land
You will get a token number after registration
Registration is totally free of cost
After that a team will visit to the home address to verify the land details and record of the applicant and the team will be from Zarai Tarakiyati Bank, National Rural Support Program, Akhuwat and Taameer Bank
For any type of complain or inquiry please contact at 042-99200773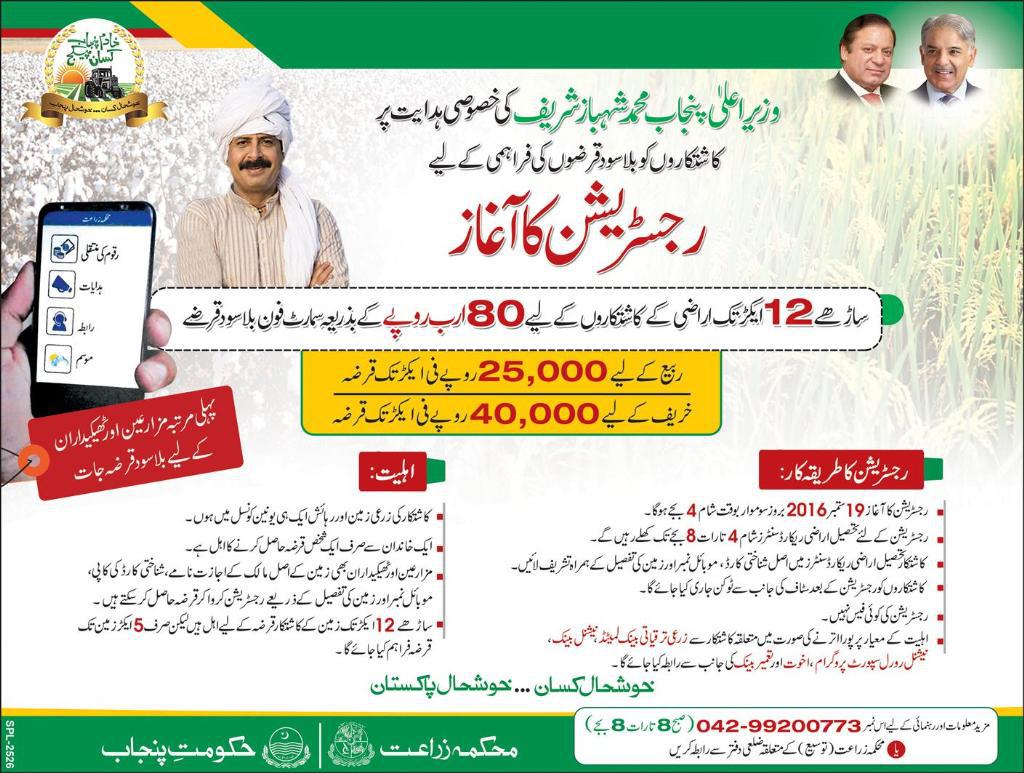 So this is all about CM Punjab Kisan loan scheme 2016 registration procedure, advertisement, and all terms and conditions. Hope you are eligible and ready to apply according to the officials details, but in case you have any confusion about this interest free loan scheme for farmers by the Mian Shahbaz Shareef you can leave your comment in the following comment box and out team will reply you as soon as possible. Thank You!