Results 2016 for PMDC Pakistan medical and dental council NEB exam OSCE/VIVA Step 3 medical has been announced by the officials and is uploaded here along with the online application forms. These examinations were conducted by National Examination Board of Foreign medical and dental graduates Pakistan medical and dental council. These NEB exams are commenced to be satisfied with the foreign degree holders. National examination board Pakistan medical and dental college commenced these examinations in the month of November on the weekend. Overseas medical graduates who are Pakistani nationals can attempt these tests. After the graduation from the foreign university it is necessary to attempt these tests to become a professional or to continue the study in Pakistan. OSCE is the abbreviation of Objective Structured Clinical Examination while VIVA is the oral examination. These two are the basics on which the candidates are testified. The candidates who have commenced PMDC NEB exams OSCE.VIVA Step 3 Medical can get the result 2016 of these examination from right on our website. However the candidates who are willing to apply for these examinations can also get the online application forms from here. We have uploaded application forms for the convenience of the candidates. For more details about these examinations, come to us any time and we will update you according to your need.
PMDC NEB Exam OSCE/VIVA Step 3 Medical Result 2016 Online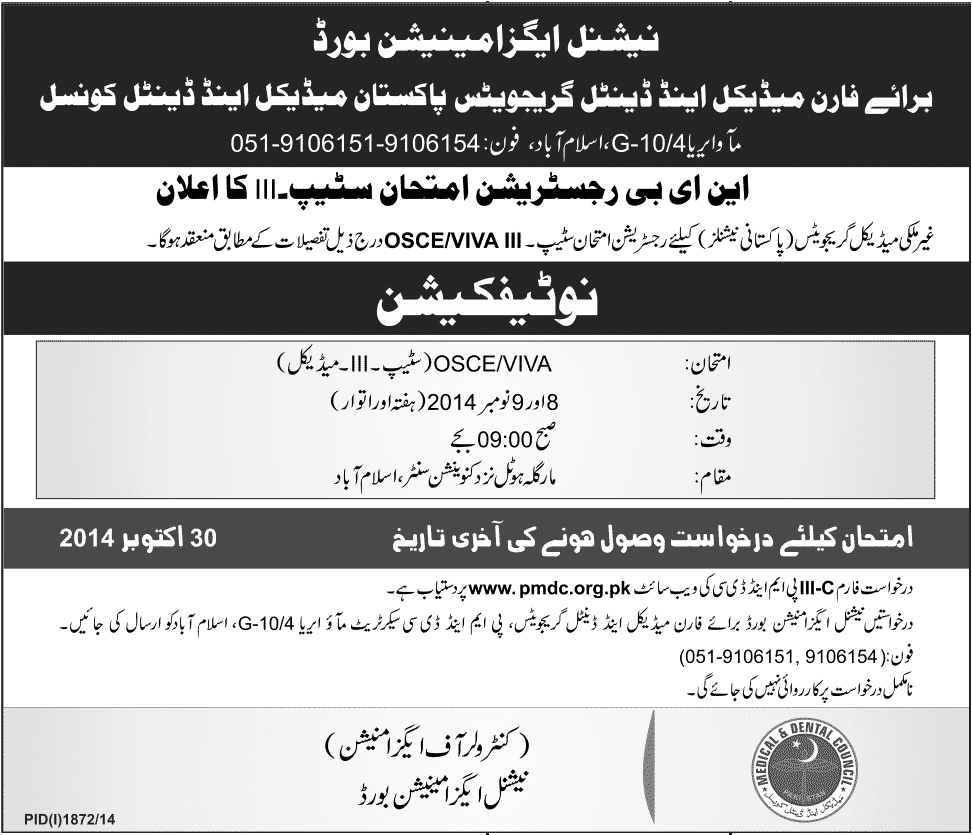 Application forms
Foreign candidates with Pakistan nationality willing to apply for the PMDC NEB Exams OSCE/VIVA Step 3 Medical can get the application forms from here on our website. For the convenience of the candidates we are also mentioning the basic information required to apply for these examinations. Below we have given the link of online application form. Candidates must download it and fill it completely with only genuine information. According to the officials it is highly recommended that the candidates fill the application forms completely because in case of incomplete application forms, the application of the candidate will not be accepted. Completely filled application forms will be sent to national examination board for foreign medical and dental graduates, PMDC secretariat MAO area G-10/4, Islamabad through post. It should be notifies that all the application forms must reach this address before the last date of application. As prescribed by the officials the last date for submission of application forms is October 2016. For more queries about these online application forms you can concern our website any time. We will be pleased to help you!
Click here To Download the Application forms
Result 2016
The candidates who have commenced the PMDC NEB exams Step 3 Medical are hereby announced that the officials have not yet released the result for these examinations. As soon as the result is announced by the officials it will be uploaded here. The candidates are just required to keep visiting our website in short intervals. For more updates stay tuned!