Lahore School of Fashion Design invites you to get Admissions 2014-15 and give you a chance to improve your qualities in the field of fashion and it's designing. It is modern field where students and youth take interest extremely day by day. Now it is time to take admission in the relevant programs where you take interest. There are many course and degree programs where you can study after completing the eligibility criteria of admissions. You can take admission in diploma programs as well degree programs which are affiliated with University of Sargodha. If you select diploma course then you have 2 years to complete it while you choose the degree programs then you have 4 years study period to finish your degree.
Lahore School of Fashion Design Admissions 2014-15
Lahore School of Fashion Design (LSFD) is a private institute and its campuses are at Lahore city which is business and modern city of Pakistan where you can find job opportunities related to its field. Now you have a time to select the courses where you take interest but to taking admissions in LSFD you must be fill the admission form according to the given information and then your chances will be increased to take admissions if your given qualification information fulfill its eligibility criteria then nobody could stop to take admission in LSFD. You read in Lahore School of Fashion Design and you will get the degree from University of Sargodha because this institute is affiliated with it. UOS will be granted you 4-year degree with title of Bachelors of Art and Design. There are many facilities that you can avail if you are part of the LSFD for example students can swim in the pool and eat fresh foods from the new cafeteria and students can play games in the field and out the field. There are computer labs where students can solve its problems if they face in study.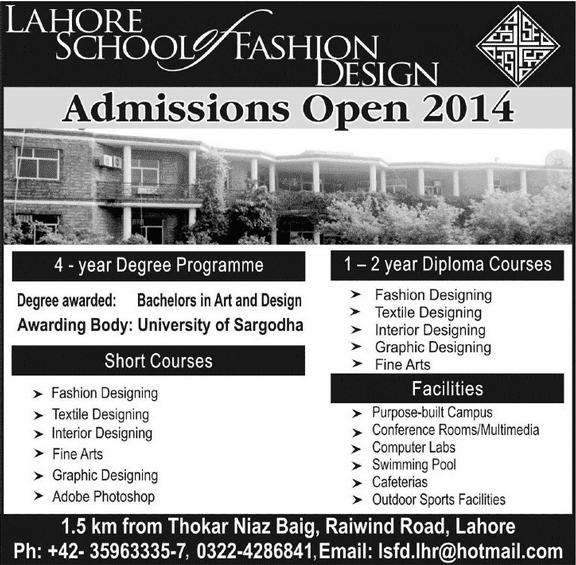 Designing and graphics course are available in the Lahore School of Fashion Design (LSFD). You can take admission in very easy way just complete the admission form and if you fulfill its admissions criteria then you will be enrolled in the campus and can start your career in Fashion and Desging.