Admission of Second Batch To MBBS Course Session 2015-16. Government of Pakistan Prime Minister's National Health Complex, Cabinet Division Defderal Medical & Dental College (FM& DC) Islamabad. Detailed information will be uploaded on the NTS website: www.nts.org.pk. This is an recognized institute by Pakistan Medical & Dental Council (PM&DC) Affiliated with Quaid-i-Azam University, Islamabad.Federal Medical & Dental College (FMDC) is the long awaited first public sector Medical College in the capital city of Pakistan. The college is duly recognized by PMDC and is affiliated with the Quaid-e-Azam University, which is ranked as the number one university of Pakistan by HEC.
Federal Medical & Dental College Islamabad MBBS Admissions 2015
Test Date:                                                      11th of Ocober 2015
Closing Date of Application                      14th of September 2015
Test Date:                                                         11th of October 2015
Result will show on NTS Website:              16th of October 2015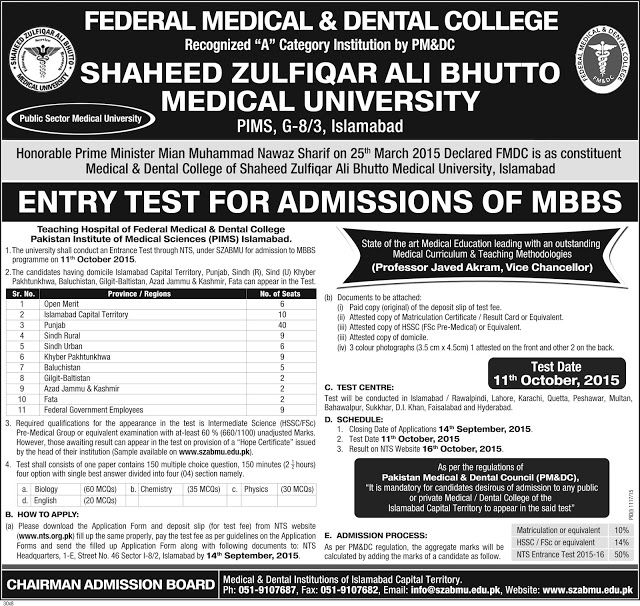 All the candidates who are selected in 2nd merit list are informed that they will come in Federal Medical and Dental College on institute schedule  with the following documents
1. Matric and Fsc certificates (original)
2. National ID card self and father (original)
3. Domicile certificate (original)
4. 5 passport size photograph
5. Attested Photostate copies of above documents (2 set)
Eligibility Criteria:
Pakistani Nationals with 60% or Higher marks in F.Sc(Higher Secondary School) examination or equivalent with Physics, Chemistry & Biology from IBCC. Admissions shall be as per approved quota.
How To Apply:
Application form and Online deposit Slip are available on NTS website:www.nts.org.pk
Please deposit test fee of Rs.1200/- through the prescribed deposit slip at the Online branches of ABL, UBL,HBL or MCB.
Candidates are required to send their applications on prescribed Application form along with an online deposit Slip (In original) at NTS Headquarters, Islamabad.
Deposited Amount in non refundable/non transferable.
Applications submitted by hand will not e entertained.
Federal Medical College Entry Test Result 2015
The Basic Medical Sciences at FMDC includes the following departments:
Department of Anatomy
Department of Physiology
Department of Biochemistry
Department of Pharmacology
Department of Pathology
Department of Community & Public Health Sciences
Department of Forensic Medicine & Toxicology